(Miami, Florida) February 21, 2023—Amendola Family Cigar Co. will release "The West Side Story" at the TPE 2023 in Las Vegas. The West Side Story will be the first in a series of brands that will pay homage to their New York roots. The West Side Story is a true New Yorker as it was blended and rolled at the Martinez Cigar Factory based in Manhattan.
The West Side Story will have two different blends in the same 20-count box. The Switch Blades and the Baseball Bats blends were inspired by the two gangs in the West Side Story film.
Owners of Amendola Cigar Co. Jeffrey Amendola and Christopher Monaco are New York natives dedicated to creating brands representing their roots. Proud Italian Americans who wear their heritage on their sleeves, they felt it was time to create a series of blends that will honor their home state. The decision was to make the two blends true-born New York cigars.
Martinez Cigar Factory was established in 1974 in Manhattan by Dominican native Antonio Genaro Martinez, now owned by his son Master blender Jesus Martinez. Today it is the oldest cigar factory in New York. The factory is located on the West Side of Manhattan at 171 W 29th St, New York, NY 10001. Aside from Martinez Cigar Factory being in New York, the factory holds special meaning to Jeffrey Amendola.
Jeffrey said, "In 2014, I met Jesus Martinez; at the time, I was working to start my own factory in Durham, NC. I reached out to Jesus for advice and guidance. Martinez became monumental in making my dream a reality by introducing me to a cigar roller and gifting me many tools of the trade I needed to get my operation running. To this day, I am still rolling cigars with chavetas, tuck cutters, and cigar molds that Martinez gave me.
Chris and I are honored to produce this project with the Martinez Cigar Factory crew. Special thank you to Dave Rivera (head of product development and marketing for Martinez Cigar Factory).
Apirica (red switch blades)
6×52 Torpedo, MSRP $14.
Medium to medium/full strength. Medium to medium/full body.
Wrapped in a Brazilian Apirica wrapper accompanied by an Indonesian Sumatra binder and Nicaraguan/Dominican fillers. The West Side Story Red Switch produces rich, buttery, silky smoke with hints of cinnamon, nutmeg, and graham on the front end accompanied by nuances of roasted nuts, earthiness, and a dash of crushed red pepper/spice on the backend. This blend boasts full of complexities while being distinct in flavor due to its rich Apirica wrapper. Sure to indulge any palette for any occasion.
Mexican San Andres (Blue barbwire-wrapped bats)
6×52 Torpedo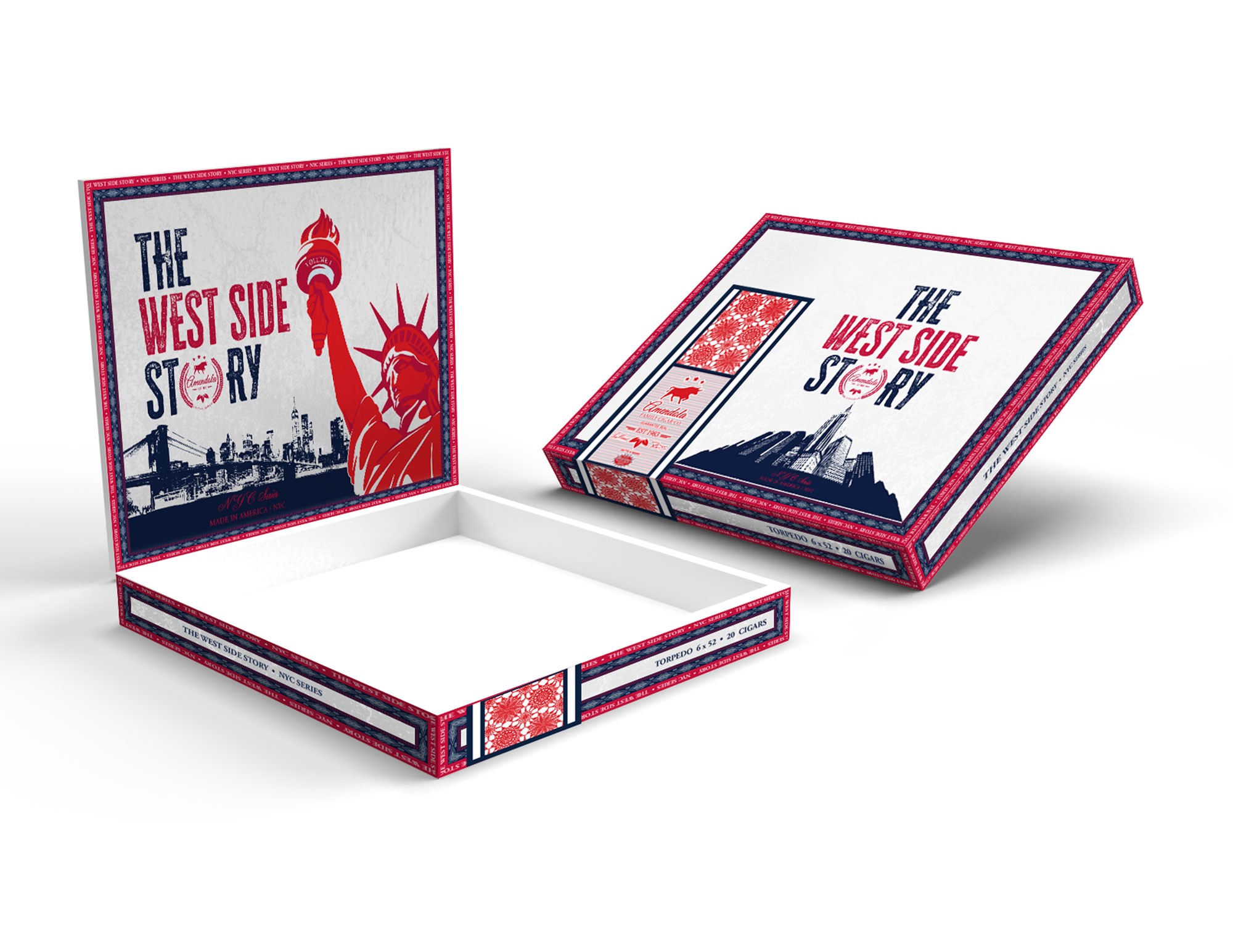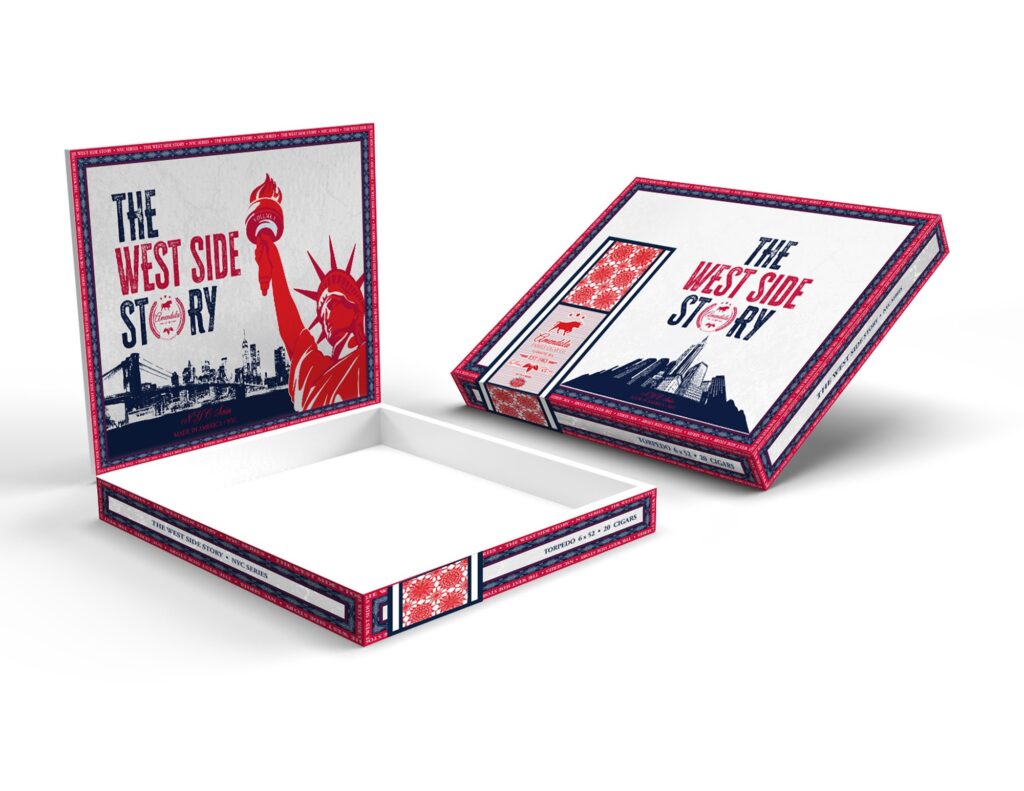 Medium/full to Full strength. Medium/full to Full body.
Cloaked in a toothy Mexican San Andreas wrapper accompanied by an Indonesian Sumatra binder and Nicaraguan/ Dominican fillers. The West Side Story barbed bat is named that for a reason, as it boasts strong and hearty flavors. This slugger hits you in the face from beginning to end. With tantalizing earthy flavors like leather, barnyard, and chocolate powder on the front end, followed by nuances of expresso, milk chocolate, and a touch of baking spice to finish it off.
The West Side Story comes in 20-count boxes with 10 of each blend. The MSRP is $14 per cigar. $280.00 per box.
ABOUT AMENDOLA CIGARS: Amendola Cigars was established in 2017. First-generation cigar blender and roller Jeffrey Amendola combined his passion for cigars with his Italian family heritage to create Amendola Cigars. Together with business partner and best friend Christopher Monaco, Amendola Cigars boasts a series of brands of cigar that proudly represent their Italian American heritage.